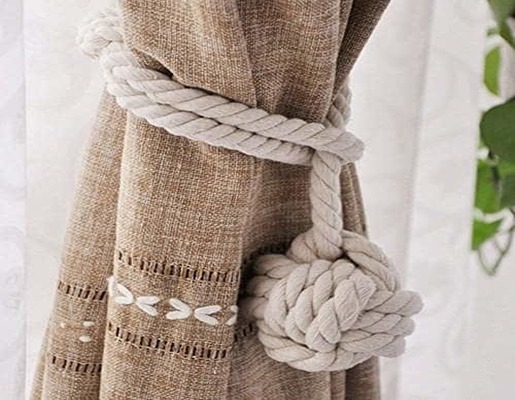 Curtain Tie Backs Abu Dhabi – Its Benefits and Beyond
Final touches are vital for perfect window treatment. If your windows are missing the absolute 'wow' factor, then you need some accessories that can make your windows stand out. One such thing that can make a difference between a stunning looking Bathroom and an average window is curtain tie backs Abu Dhabi. Tiebacks are necessary window treatment accessories that can make your home stylish and elegant with little effort. They are used to gather and hold curtains and are made of fabric or rope.
Choose from our wide range of curtain tie backs Abu Dhabi
If you want to make your curtains more beautiful, you can have a curtain tie backs Abu Dhabi in different colors and styles. You can choose from our simple, fabric, rope, or curtain tie backs hooks. For a luxurious touch, look for our glamorous tasseled tiebacks with stones or famous rope tie backs. Whether you are looking for steel, gold, silver, or ivory fabric curtain tie backs with intricate patterns, we have all colors and finishes that you need. Go for our neutral or vintage tie back for a complete change.
Add style to your house with our curtain ties backs Abu Dhabi
Tiebacks can make your curtains and décor look stylish and glamorous. Without it, the curtains look plain. Dress up your curtain with our fine fabric curtain tie backs and add a decorative touch to your interior.
Keep your curtains still with tie backs
Stop your curtains from moving abruptly with the wind with tie backs while opening windows to enjoy some fresh air. Tiebacks will keep curtains neatly in place and reduces movements.
Control your light and privacy as you want
Increase or limit the amount entering in your room as you want. If you keep the curtain tie backs Abu Dhabi high, more light will enter, but if they are placed low, they will allow less light to pass in, and it will look more dramatic. Enjoy your privacy well by releasing the tie backs to close the curtains.
How to install Curtain tie backs Abu Dhabi
Do you know how to fix the tiebacks? If not, then we have got your back. We will assist you on how to fix them and can fix them for you too.
Choose Us!
If you are wondering about buying a curtain tie backs Abu Dhabi for your room, then contact us at Curtainblinds.ae. We will love to help you with the best designs and the finest quality. So, reach out to us and get what you want.